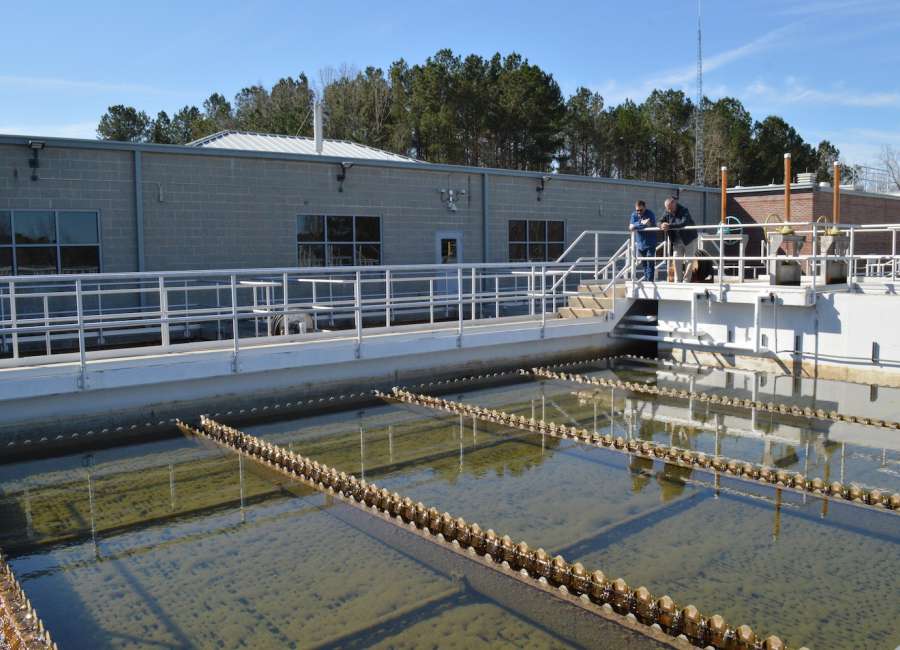 Sarah Fay Campbell / The Newnan Times-Herald
The B.T. Brown Water Treatment Plant is currently producing 7.77 million gallons a day. The plant will run at that rate for six months to provide data to the EPD for a permit increase. Looking over the tube settlers at the plant are Operations Manager James Stephens and Authority COO Rick Jones.
Coweta's B.T. Brown Water Treatment Plant, which for many years operated at a trickle because of low demand for locally produced water, is ramping up production and has now been approved to treat more water per day.
The Coweta Water and Sewerage Authority has received an approval letter for an increased filtration rate at the plant, which makes it possible for the plant to treat 7.77 million gallons of water per day. The previous maximum was 6.06 million gallons per day.
The filtration rate – the speed at which water goes through the plant's filters, is being increased from 3 gallons per minute, per square foot, to 3.84 gallons per minute per square foot.
The filters, which use sand and anthracite coal, are the final physical step in the water treatment process. After filtration, the water is chlorinated.
The amount of water that authority customers use has grown steadily over the past few years – as has production at B.T. Brown, which is located on the B.T. Brown Reservoir on Alexander Creek Road.
The authority will be able to use more of its water as the water supply contract with Newnan Utilities ramps down in 2022. But at the same time, the authority's 50-year contract with the city of Griffin ramps up to its maximum of 5 MGD.
The impetus for increasing the plant's capacity came during a short drought in 2018. That's when the plant and reservoir had more pressure on it than it had ever had before.
The authority petitioned the EPD to increase the filtration rate –the limiting factor when it comes to how much water can flow through the treatment plant.
Getting that approval required a lot of legwork from an engineering standpoint and a lot of data, said Authority Chief Operating Officer Rick Jones.
The authority had to provide data from plant operations and show that the increase was needed, he said. In January, the authority received the approval letter. That begins a six month period of operating at the higher rate and providing data to EPD, before there is an official increase in the treatment permit.
The 7.7 million gallons a day is the most the plant can produce without significant plant upgrades, Jones said.
Currently, "we're running full steam," he said. "We have to give six months of data, showing we can run at that rate for 24 hours a day for an extended period of time."
While the overall increase is…


Read more:: BT Brown seeking permit for increased production