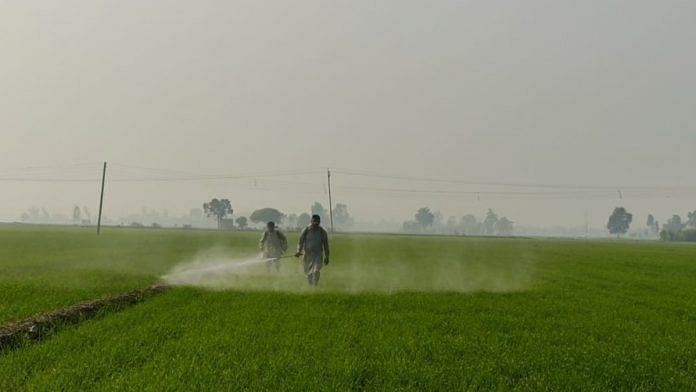 Text Size:


New Delhi: At a time when farmers protesting at Delhi borders are demanding to make Minimum Support Price (MSP) a legal provision, the draft National Water Policy 2020 has blamed the government's procurement policy — for wheat and rice — for the skewed pattern of demand for these water-intensive crops, which has aggravated the water crisis in the country, ThePrint has learnt.
The policy, drafted by a 11-member committee constituted by Union Jal Shakti Ministry, has said it will be impossible to meet the basic water needs of millions of people for drinking and irrigation purposes without a "radical change" in this pattern of water demand, government sources said.
The committee, headed by Mihir Shah, a noted water policy expert and a former Planning Commission member, submitted its report to the ministry last month. The ministry is currently going through the draft policy before finalising and adapting it.  
The policy, a source said, has held that crop diversification without endangering national food security is the "single most important step" in resolving India's water crisis. 
In India, water consumption for irrigation accounts for 80-90 per cent. Of this, 80 per cent water is consumed by just three crops — rice, wheat and sugarcane.
According to a second source, the draft policy has recommended diversifying the crop procurement process in a calibrated manner to include nutri-cereals like millet, jowar and bajra, pulses and oil seeds, in line with the local agro-economy. 
The committee has said that with the diversity of crops finding a growing place in public procurement, farmers will gradually diversify their cropping pattern in line with the "new structure of incentives" resulting in a  huge saving in water. 
ThePrint reached U.P. Singh, Secretary, Union Jal Shakti Ministry, through phone calls and WhatApp messages for a comment on the draft, but there was no response till the publishing of this report.
---
Also read: How the business of water scarcity can be tackled in India
---
Reliance on water-intensive crops has increased water woes
It was during the 70s that states like Punjab, one of the biggest beneficiaries of the Green Revolution, increased the acreage of water-intensive crops like wheat and rice, in a bid to make India self-sufficient. 
But experts said this reliance on water-intensive crops has over the years increased India's water woes.   
"It is a significant shift from past three National Water Policy, which came out in 1997, 2002 and 2011, as it emphasises demand side management. It also acknowledged the water crisis at both surface and groundwater," the second source told ThePrint.
To encourage farmers to move away from growing rice and wheat, the National Water Policy 200 has…


Read more:: Govt procurement policy of wheat, rice aggravating water crisis — draft National…