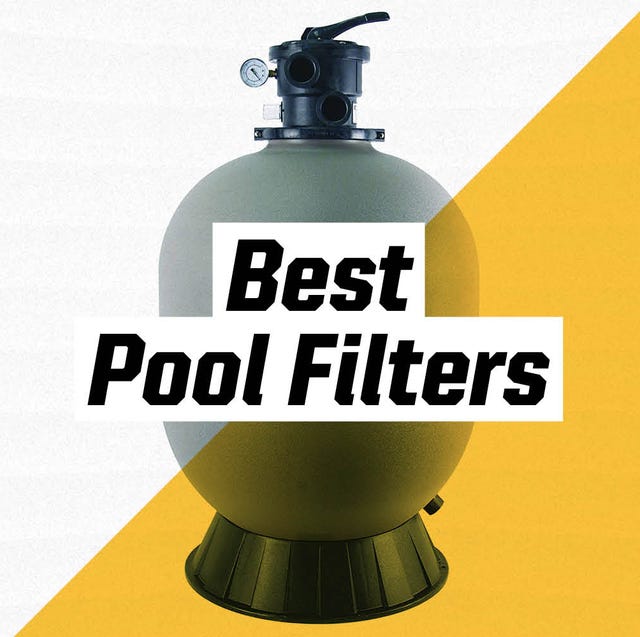 Staff, Courtesy of Hayward
There are plenty of decisions to make when buying a swimming pool, but you may be surprised to learn that there's also a lot to consider when shopping for a pool filter. There are three different types—sand filters, cartridge filters, and diatomaceous earth (DE) filter—and there are pros and cons for each. Everything from expense and maintenance to water clarity and energy efficiency are at play, and finding the right filter for you boils down to more than whether you have an in-ground or above-ground pool, or its size. Luckily, we've done the legwork and rounded up the best pool filters on the market, plus offer advice on what to consider while you shop.
What to Consider
Sand filters are popular, often affordable, and easy to maintain over the longterm. The downside is that you won't get the same level of water clarity as other option, they require backwashing, and the sand needs to be replaced about every 5 years. Cartridge pool filters are also popular but can end up costing more over time because the filters need to be replaced. That said, they do a solid job keeping your pool water clear and are fairly energy-efficient. DE filters do an excellent job with filtration and are very energy-efficient, but they tend to be pricey and require backwashing.
How We Chose
All of the pool filters we cover are rated four stars or more, and several have ratings of 4.5 stars or higher. We cover every type of filter from top brands, including Hayward and Intex, and cover options for above-ground and in-ground pools. We also offer filters across multiple price points, from models that are a great value to ones that are worth upgrading to if you have more to spend.
Advertisement – Continue Reading Below
1
Best Value Sand Filter for Above-Ground Pool
Rx Clear Radiant Sand Filter
Rx Clear
amazon.com
$268.96
This 16-inch sand filter is ideal for above-ground pools up to 16,000 gallons. The one piece blow-molded tank has a well-labeled six-way top-mount filter valve, with a pump and return that's clearly visible, and it's said to filter out particles down to 3 to 5 microns. The pump comes with a 1.5-inch threaded connection, along with a filter base. It holds roughly 110 pounds of sand, and it also comes with a 3-year manufacturers warranty against defects.
2
Best Upgrade Sand Filter for Above-Ground Pools
Intex 2800 GPH Sand Filter Pump
Intex
amazon.com
$549.99
$449.99 (18% off)
If you have a bit more to spend on a sand filter for an above-ground pool, this 14-inch model from Intex gets rave reviews, with an average 4.6 stars from 1,300 customers. 
It features a 2,800…


Read more:: 8 Best Pool Filters 2021