Don Hunter is worried about the uranium in his water. 
For years, the oil company Atlantic Richfield, responsible for cleaning pollution at the nearby Anaconda Copper Mine, has paid to deliver bottled water to Hunter's Yerington home. His well water registers about twice as much uranium as federal regulators consider safe for drinking.
"They probably should have taken care of this a long time ago," he says.
Hunter lives about six miles away from the Anaconda Copper Mine, where mining practices through the 1960s created a contamination pathway to the local aquifer and tainted water with uranium. The same aquifer is shared by agriculture, homes and the Yerington Paiute Tribe.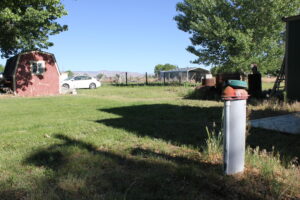 On a warm June morning, Hunter can see the former mine from the yard he irrigates with his well. It's hard for Hunter to believe the high uranium reading isn't at all mine-related, as state officials and the company argue in modeling. He can see the mine. He drinks bottled water.
"I just know they need to do something about the water," Hunter says.
For more than a decade, the amount of contamination thought to be associated with the mine has shrunk in the favor of Atlantic Richfield, known as ARCO, based on data from a network of over 300 monitoring wells. In 2017, the EPA accepted ARCO's report of the mine-related pollution, showing it stopped short more than a mile from Hunter's home, which is near the Yerington Paiute Tribe's reservation. Still, the model found extensive contamination in the area.
The mine-related groundwater plume, it said, contained 98.8 tons of uranium and more water than Las Vegas, a city of 2.2 million, uses every year. It could take 285 years to remove the quantity of water necessary to clean up the aquifer, even if 2,500 gallons were pumped each minute, according to a rough analysis the company included in its draft report on groundwater. 
Then, the model was altered. 
In 2018, ARCO got a new regulator: The Nevada Division of Environmental Protection. 
The EPA deferred its oversight responsibilities to the state as part of a deal to remove the site from the Superfund list, which enables hazardous sites to get federal funding but has a long backlog. ARCO negotiated the deal with state regulators, who presented it to the EPA. 
In May, state regulators approved a revised report holding the mine responsible for less than half of the potential contamination previously modeled, a conclusion far more favorable for ARCO. In the long term, it could mean a less extensive and less expensive aquifer cleanup.
Soon after the state division took over, ARCO started presenting new science. ARCO began mounting a case, based in part on a new analysis the company conducted, that significantly reduced the pollution zone that had been vetted by EPA's…


Read more:: After EPA handed over mine cleanup to the state, Nevada regulators approved 'sig…