John Bowden, an assistant professor at University of Florida's College of Veterinary Medicine, wasn't a fan of paper straws when they first gained popularity.
---
"They broke down in drinks really quickly," Bowden told EHN. "They fell apart in your mouth."
But then the biodegradable market—plant- and paper-based straws—expanded, giving people more structurally sound plastic straw replacement options. People could dip them in a drink without having to pull out a soggy clump of paper.
Bowden was skeptical. Oftentimes, companies will coat permeable products in per- and polyfluoroalkyl substances (PFAS), which are resistant to liquids.
To investigate, Bowden and his lab tested 38 biodegradable straw brands purchased from Amazon in early 2020, and found 21 different PFAS chemicals. Thirty-six of the brands, which Bowden and his team kept anonymous, had detectable PFAS.
Their recent study, published in Chemosphere, showed that some companies who market their straws as "biodegradable" may be misleading the public. PFAS chemicals do not break down in the environment, because of their carbon-fluorine bond, one of the "strongest bonds in chemistry," Bowden said.
"They're very persistent, they repel water, those properties make it very difficult for them to break down," Bowden said. "If PFAS are on it, I would not consider that biodegradable."
People may be adding to their PFAS exposure by using a supposedly environmentally friendly straw option.
PFAS exposures add up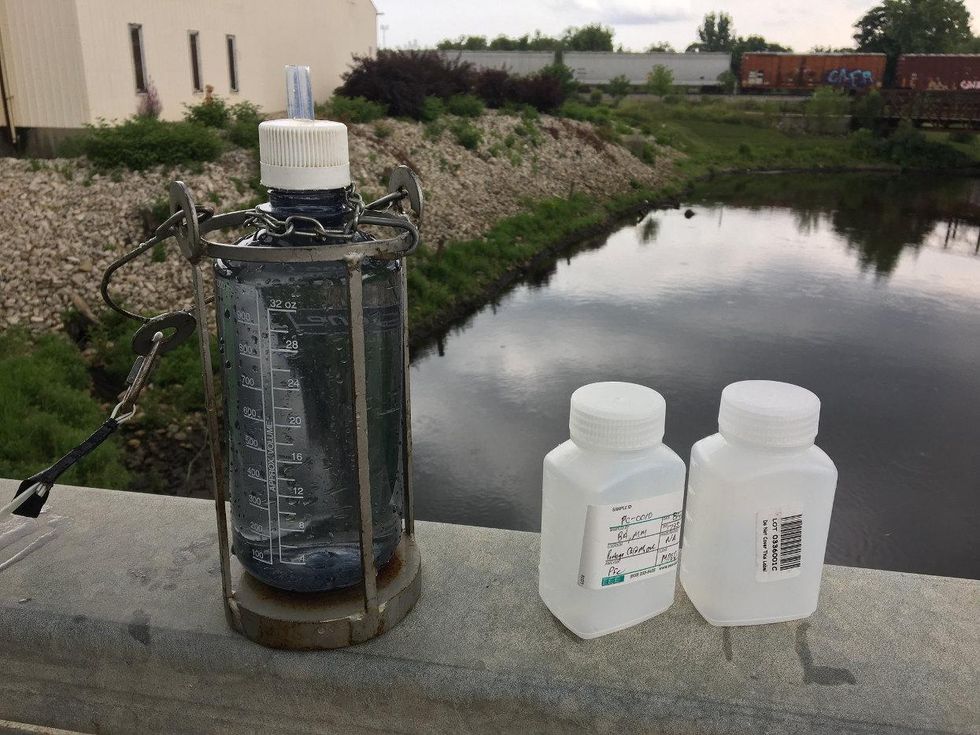 Sample bottles for PFAS testing in Kalamazoo, Michigan. (Credit: Department of Environment, Great Lakes, and Energy/flickr)
PFAS, dubbed "forever chemicals," are used in a variety of products, such as food wrappers, stain-repellent clothes, cosmetics, and furniture.
When PFAS accumulate in landfills or littered waste, they often leach into groundwater. Additionally, they are difficult to remove from wastewater, leading to high levels in effluent-fed surface water. The Environmental Working Group (EWG) estimates there are 2,337 contaminated private and public drinking water sites in the U.S.
"They also accumulate in fish, birds and mammals—you have this endless cycle in the environment of them building up," Tasha Stoiber, senior scientist at EWG, told EHN.
About 95 percent of people in the U.S. have some concentration of PFAS in their bodies, according to the National Ground Water Association.
Small exposures, like those that people would experience from certain biodegradable straw brands, are not harmful. However, exposures add up.
"When we think about the cumulative exposure across many different sources, that's concerning because PFAS exposures have been linked to a wide range of health effects," Laurel Schaider, senior scientist at Silent Spring Institute, told EHN.
High exposure to PFAS is linked with greater risks of certain cancers, high cholesterol levels, reductions in infant…


Read more:: 'Forever chemicals' coat the outer layers of biodegradable straws