AirDresser — a smart laundry tech — is on its way to India to make at-home dry cleaning possible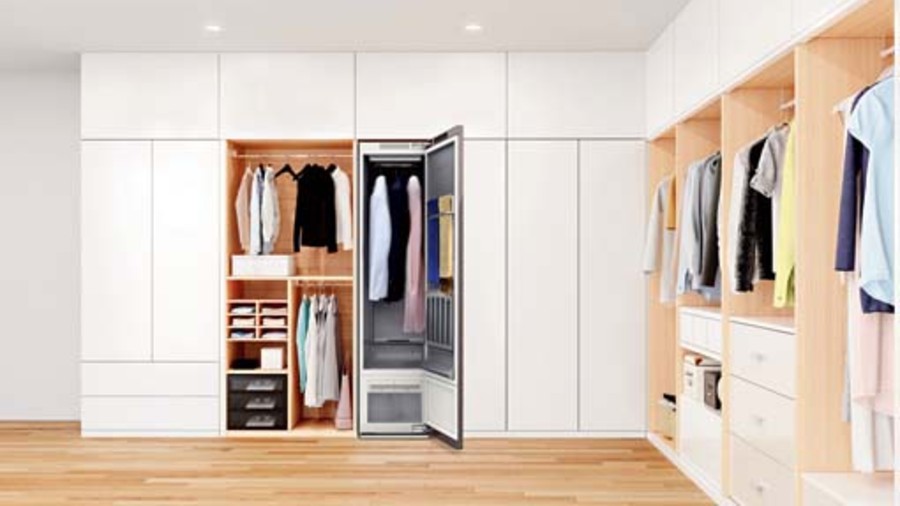 ---
---
Another closet may soon find its way around houses but this one is packed with innovation; it's an electronic closet. Called the AirDresser, the Samsung innovation is designed to clean and sanitise clothes.
The advanced smart clothing care solution, which is expected to launch in India in the next few days, finds the company entering a new product category in a country where it has just reached the 25-year milestone.
Jackets, suits and dresses are not easy to maintain as small mistakes can leave them wrinkled or ill-fitting. Further, they can't be washed in a washing machine, while taking them to the dry cleaner on a frequent basis can be time-consuming. The AirDresser has your back, be it making suits appear pressed or tackling wrinkles in a chiffon dress with some steam.
There are several innovations at play on the device. The machine uses powerful air and steam to remove odour, relax wrinkles and dry clothes. There are several innovations at play. Besides refreshing clothes with the JetSteam and JetAir features, the AirDresser can "break down and separate odour-causing particles from clothes" (including 99 per cent of sweat and smoke odours). There is HeatPump Drying technology involved, which employs air that reduces damage and shrinkage to clothing. Also present is the Fragrance Kit feature, which provides you with the option to add a perfume to the clothes. Air Hangers are for handling pollutants that cling to our clothes. It disperses air through the hangers that the garments are hung on and it works without making any noise.
The premium segment offering doesn't require a lot of space or a separate water line. That means it can be installed almost anywhere in the house. Plus, it's something that should freshen up your wardrobe beyond summer. It has several cycles tailored for specific garments, including leather, down jackets and winter coats. The steam also removes germs and allergens from items like bedding and babywear.
Samsung is not looking at the AirDresser as an alternative to washing machines but more as a convenient at-home solution to care for clothes. It connects using Wi-Fi to Samsung's SmartThings App, which will recommend the best cycle based on the garment and fabric type, and the app will send a notification when the cycle is complete and garments are ready. This is truly clothing care reimagined.
At a glance
…


Read more:: Now you can dry clean at home